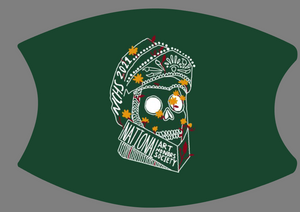 Adopt A Knight - FACEMASK
All face covers are two ply, polyester and cotton ply, removable filters for washing and adjustable knobs for one size fits all.  
All masks are the same size, adjustable knobs are provided with every face cover to fit ears and smaller heads.  
Features from Factory:
Polyester with cotton interior
Adjustable straps
Washable - Line dry ONLY
Mask Size: 7" x 4.75"
Filter Size: 3.25" x 4.75"