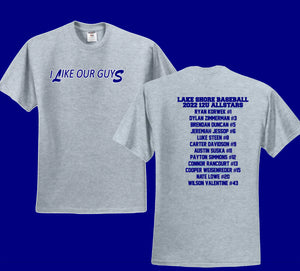 I LIKE OUR GUYS - LS 12U ALL STAR TEAM (Grey) (PERFORMANCE)
ORDERS WILL BE DROPPED OFF TO COACH FOR DISTRIBUTION.   IF YOU WOULD LIKE TO SHIP OUT, PLEASE SELECT SHIPPING OPTION AT CHECKOUT.
COMPLETE ROSTER ON BACK, TWO COLOR FRONT. 
THE ROSTER WILL BE COMPLETE WITH ALL NAMES, WE WILL UPDATE THE ROSTER WHEN PRINTED.