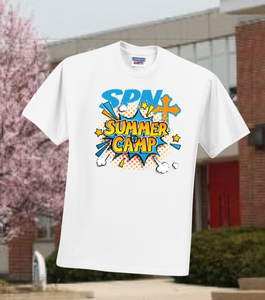 ST PHILIP NERI 2022 SUMMER CAMP T SHIRT - SHORT SLEEVE WHITE
AVAILABLE IN ALL SIZES, IF YOU DO NOT SEE YOUR SIZE IN THE OPTOINS, PLEASE LET US KNOW AT CHECKOUT. 
ALL SHIRT ORDERS ARE DUE BY 6/8 IN ORDER TO RECEIVE TO WEAR ON THE LAST DAY OF CAMP.   
ALL SHIRT ORDERS WILL BE DELIVERED TO THE CAMP, UNLESS OTHERWISE STATED IN THE NOTES AT CHECKOUT. 
THANKS AND PLEASE LET US KNOW IF YOU HAVE ANY QUESTIONS.